Skin Tag Removal – A Help Guide For You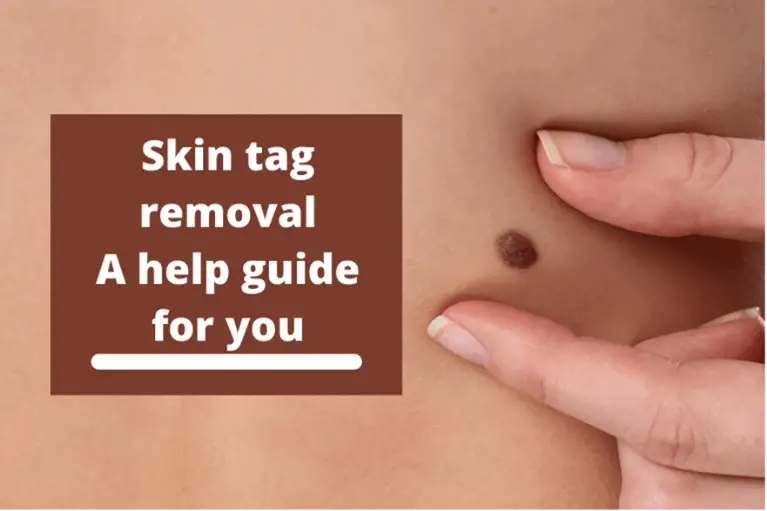 Moles are pigmented skin growths. They are made up of cells and may appear on any part of the body. Usually, moles can grow in different colors like brown, black, blue, etc. They are considered benign because they are harmless. Luckily, they are not cancerous cells. And most importantly, they don't cause any pain. Mostly, moles appear on the skin in the early 20 years of life. But it's not compulsory as people can get moles on the skin at any age.
Skin Tags are soft skin outgrowths attached to the skin. They are small and harmless. Luckily, they don't cause any other symptoms. Mostly, people get skin tags on the neck, underarms, breasts, body folds, and upper trunk. Skin tags also appear on nipples and around the anus. These are the most sensitive areas.
How To Differentiate A Tag From A Mole?
Unlike moles, tags are always attached to the skin by a stalk. Mostly, skin tags are softer and smaller than moles. They are round in shape and darker in color. Their sizes are in millimeters. Some large tags have their size in centimeters. You can easily identify tags from moles by looking at them.
What Are The Reasons For Skin Tags And Moles?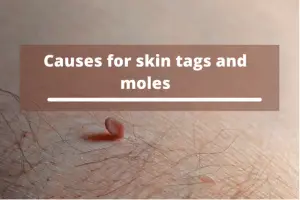 Causes for skin tags are still unclear. Many factors are involved in tag appearance. According to a study of 2008, the Human Papillomavirus causes 50% of skin tags. Hormonal and genetic issues also cause tags on the skin.
Insulin resistance which causes diabetes also enhances tag formation on the skin. Patients with insulin resistance are unable to absorb glucose from the blood. According to a 2010 study, people with insulin resistance may have multiple chances of skin tags.
Hormonal changes during pregnancy play a role in developing skin tags. Obesity also plays an important role in this regard. Genetically, some families have tags on their skin. These tags are non-cancerous cells. They are harmless as they are only cell outgrowths. These are made of the upper layer of skin cells.
Is It Important To Remove Tags From The Skin?
Basically, tags and moles are harmless. They don't even cause any other symptoms. But they can be irritated by rubbing with clothes. So, some people want to remove tags and moles from the skin. People can remove their skin tags at home by using different home remedies. And they also get rid of tags at different clinics.
How To Diagnose A Skin Tag?
The ICD-10 code L91.8 is used to diagnose skin tags, and other skin problems as the ICD-10 Clinical Modification finds out this latest version. So, this ICD-10 code of skin tag removal may be used from October 2020 to September 2021.
The ICD-10 code for skin tags is basically a medical term. This method has become very effective nowadays. The word 'Acrochordon" is a clinical term for skin tags. They are non-cancerous cells that appear as skin outgrowths. To diagnose acrochordon dermatologically, the ICD-10 skin tags are used.
Skin Tag Removal At Home:
Usually, you can remove skin tags without going anywhere. By using a few remedies or products, you can easily remove them at home. Luckily, these products are present in every kitchen. Home remedies work gradually but give effective results.
Tips: How To Remove Skin Tag Overnight
Apple Cider Vinegar:
Basically, apple cider vinegar has anti-inflammatory and anti-bacterial properties. It also dries out skin tags gradually so that they can be removed easily.
Take a cotton ball and dip it in apple cider vinegar. Then, place it over your skin tag. Cover your tag with a bandage for 12-15 minutes. After 15 minutes, take off the bandage and cotton. Wash your skin with clear water. Repeat this process daily. The tag will shrink and then remove gradually.
Garlic Paste:
Usually, people use garlic to reduce inflammation. Garlic also helps in the skin tag removal process naturally. It shrinks the tag gradually until the tag will disappear.
Clean your tag area thoroughly and dry it. To remove the tag naturally, apply garlic paste on the tag and cover it with a bandage overnight. In the morning, wash it properly. Repeat this process for a few nights until the tag will be removed.
Tea Tree Oil:
Tea tree oil has dry properties. This oil proves very effective in treating acne. And it is also used as a skin tag remover.
Firstly, clean the affected area properly. Massage tea tree oil by using a cotton ball. Then, cover the area with a bandage for the night. Wash in the morning and dry it. The tag will fall away in a few days.
Vitamin E Oil:
Aging is also the main reason for tag appearance on the skin. Vitamin E oil proves very helpful in reducing aging signs like wrinkles, freckles, and tags. Additionally, this oil nourishes the skin, apply this oil on tags every day and massage it well until tags fall away.
Skin Tag Removal Patches and Bands
Most people use the ligation process to remove skin tags. Bands and patches stop the blood supply to tags. This helps to dry out skin tags. After drying completely, those tags fall off ultimately. The blister may appear on the skin after removing the patch. Apply an ointment on the affected area to reduce risks of infection.
Removal Creams or Solutions
Skin tag removal creams play a vital role in removing tags. Dermatologists recommend different tag removal creams. Mostly, creams with salicylic acid, tea tree oil, and vitamin oils are recommended. Always use soothing creams after washing the affected area.
Homeopathic products prove very effective in removing skin tags. Homeopathic products consist of all-natural ingredients which have no side effects.
Homeopathic Products
People use different homeopathic products in homes nowadays. Typically, all homeopathic products are made of all-natural ingredients. They are safe to use as they have no side effects.
Skincell Pro – Mole and Skin Tag Corrector Serum:
Skin pro is the best natural way to get rid of your tags naturally. Skincell pro targets the root cause of your skin tags and mole and gets rid of them permanently. By absorbing into your affected skin area, it triggers the white blood cells in that part. These natural ingredients have not even single side effect on your skin. To learn more read Skincell pro reviews!
How To Use Skincell Pro?
This product is very effective in the tag removal process. Apply this liquid regularly, and wash it after a few hours. This will dry out skin tags and ultimately fall away within 8 hours. Avoid using during pregnancy and nursing a baby.
Provent Tag Remover Liquid:
Provent tag remover is a homeopathic product. This product contains all-natural ingredients. Thuja Occidentalis is the active ingredient of this product.
How To Use Provent Skin Tag Remover?
Provent tag remover is suitable for all skin types. It is easy to use. Firstly, clean the affected area. Then, apply a few drops of Provent tag remover. Let it dry. Repeat this process three times a day.
Basically, its ingredients penetrate the skin. And eventually, dry out unwanted tags.
Hempvana Skin Tag Remover:
Hempvana skin tag remover is a commonly used product worldwide. It contains all-natural ingredients. Ingredients include hemp seed oil, turmeric powder, and aloe vera gel. Hemp seed oil and turmeric powder shrink skin tag. In comparison, aloe vera gel soothes skin.
How To Use Hemp Vana Skin Tag Remover?
Hemp Vana skin tag remover is handy to use. It is suitable for all skin types. By using it, you can easily remove unwanted skin tags. Apply Hemp Vana skin tag remover three times a day on affected areas.
Skin Tag Remover Tools
Beauty tools look very scary, but they are not. Good tools work great on the skin, as a micro-needling pen works very effectively in reducing scars. Similarly, some skin tag remover tools are available in the markets.
Here are 5 best skin tag remover tools:
TagBand Skin Tag Remover Tool
La Prado Skin Tag Repair
Blu-ray Skin Tag Repair Pen
SGGI Portable Beauty Equipment
Dinh and Micro Skin Tag Remover
When To See Your Doctor?
Mostly, tags are harmless benign tumors. They are non-cancerous cell outgrowths. But some tags may be cancerous. Those tags can lead to severe problems. To avoid risks, always see your doctor. After a visual outlook, your doctor will guide you properly. So, it's best to meet your doctor first. Your dermatologist diagnoses tags first. If necessary, he will do proper surgery accordingly.
Skin Tag Removal At Clinics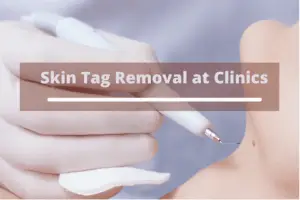 Doctors can remove skin tags in different ways.
By burning off the skin tag. Your doctor may use a stem wire to remove your tag. Firstly, a current passes through the stem wire. This current produces heat in the wire, which is used to burn skin. In this process, doctors burn the upper layer of skin. This process is also called Cauterization. Heat production in wire prevents bleeding. You may require one or more treatments to fall away your mole completely.
By cutting skin tags off. In some clinics, doctors may shave off small skin tags. Your doctor may also use surgical scissors to get rid of tags. Large skin tags are always removed by cutting off. Doctors cut off all tag cells to prevent their growth in the future. These large cuts always require stitches.
By freezing skin tags with nitrogen. You may name it Cryosurgery.  In some clinics, doctors use super-cold liquid nitrogen. They may spray this nitrogen on skin tags. This super-cold nitrogen will freeze your skin tag, and your doctor will easily remove that tag. You may get a small spot-on affected area, but it will heal on its own.
After Removal Tips
Mostly, no infection occurs after removing skin tags. But, some people with sensitive skin may get some scars on affected areas. These scars will fade out with time.
Always apply antibiotic cream after removing tags. This will help to prevent complications or infection. If redness appears, then see your doctor immediately.
After removing the skin tag, doctors always recommend keeping the affected area dry. This lessens the risk of infections. After 48 hours, you may wash that area gently. You should see your doctor repeatedly to check your affected area.
Final Words
Skin tags and moles are pigmented skin outgrowths. Collagen, along with the upper skin layer, plays a role in tag formation. Different factors affect tag appearance. If you have a skin tag, contact your dermatologist first. If necessary, take a surgical procedure to avoid risk.
Home remedies and tag removal solutions also prove helpful in removing tags. If redness, itchiness, or blisters appear, see your doctor immediately. Some stubborn tags are removed after multiple applications. Use ointment or soothing lotion after washing the affected area.
If you are over-weighted, then control your diet and do some exercise. Patients with insulin resistance control their blood sugar levels to avoid tags.
Frequently Asked Questions
The most frequently asked questions about skin tags and skin tag removal are given below:
How to shrink hemorrhoidal skin tags?
Skin tags around the anus are named hemorrhoidal skin tags. Mostly, people are unaware of how to shrink hemorrhoidal skin tags. You can easily remove skin tags at home from other body parts. But anal parts are sensitive. So, going to the doctor to shrink hemorrhoidal skin tags will be a good decision.
Shrinking hemorrhoidal skin tags at clinics is a maximum five-minute procedure. Doctors may use freezing or burning off techniques to shrink them.
Do skin tags appear on nipples during pregnancy?
Skin tags may appear on the body during pregnancy. They may appear on breasts, vagina, or nipples. Skin tags on nipples are the most common during pregnancy. Basically, hormonal changes during pregnancy may cause skin tags' appearance on nipples, breasts, or around the vagina. Getting too much weight during pregnancy is also a reason for skin tags.
Women can avoid these skin tags by consulting with their doctors. Doctors will recommend certain precautions to avoid tags.
Does Walmart sell skin tag removal products?
Yes, Walmart sells many skin tag removers. Skin tag remover Walmart includes different homeopathic products. These products involve Provent skin tag removers and other well-known brands. Walmart grocery also offers skin tag removal pens.
Does Walgreens sell skin tag removal patches?
Yes,  Walgreens sells different skin tag removal patches. Besides skin tag removal patches, they are selling different products and tools for tag removal. All products are worth-buying on this website. You can order skin tag removal from Walgreens as this web offers some amazing deals on tag removal products.
How much is dog Skin Tag Removal cost?
Dog skin tag removal costs differently at different locations. Its cost also depends upon the size of the skin tag, techniques to use, and dogs' health. Besides, dog skin tag remover costs more for sensitive areas like eyelids, anus, etc.
For example, a small surgery for a well-mannered dog costs less. On the other hand, large surgery for an aggressive dog costs high.
Related Reading: