Benefits Of Drinking Aloe Vera Juice For Skin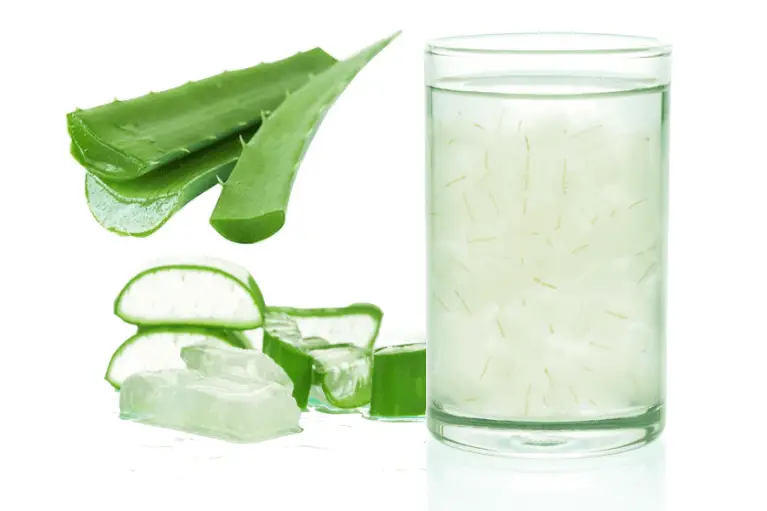 Aloe vera juice is a low-calorie drink, and it comes with tons of health benefits. But have you ever wondered why people drink aloe vera juice? Or maybe, you've been drinking it for a while and wonder what all the fuss is about. In this post, we have narrowed down a list of the benefits of drinking aloe vera juice for the skin.
What are the Benefits of Drinking Aloe Vera Juice for the Skin?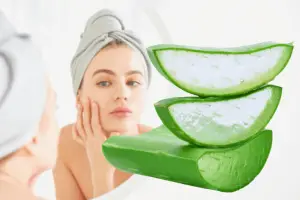 The first benefit of drinking aloe vera juice for the skin is its antibacterial property which can help prevent infections. This is especially important for people who have sensitive skin or those prone to cuts or scrapes. Saponin, of the 75 active components of aloe vera, contains antiseptic and cleansing properties, which is why you get clearer skin by drinking aloe vera juice or applying gel on the skin.
Drinking aloe vera juice can benefit your skin by providing extra hydration. It helps improve your skin's moisture level. If you've ever wondered how aloe vera could improve your skin hydration, it's because of its high water content. The inner gel of aloe vera contains approximately 99% water.
It also improves your skin hydration because aloe vera contains 8 enzymes that can break down dead skin cells and make them easier to remove. This is why aloe vera gel is one of the most common ingredients in skin tag and moles removal products. The amino acids in aloe also soften the skin and, at the same time, produces elastin fibers making your skin supple and moisturized. So if you're in need of some extra moisture in your life (or if you want to try something new), give aloe vera a try!
Keeps Skin Looking Younger:
Drinking aloe vera juice is a healthy way to beat aging skin. Why? Aloe vera has high levels of Vitamin A and C and produces collagen, which in turn makes the skin less wrinkled. The benefits of aloe vera gel for diminishing fine wrinkles and decreasing erythema are well-researched. Due to the moisturizing effects of aloe, it also reduces the appearance of wrinkles.
Improves Your Complexion:
Aloe vera also improves your complexion through its anti-aging properties. You might be wondering: does drinking aloe vera juice make your skin glow? Drinking aloe vera daily will help keep collagen production in check and give you radiant skin.
A clinical trial revealed drinking 40 micrograms of aloe sterol improved skin elasticity and collagen production, contributing to healthy skin among those under age 46.
Aloe vera juice is great for soothing sunburned skin because it contains enzymes that can help break down dead cells on your skin's surface. If you have dry or damaged skin, drinking aloe vera juice regularly can help restore its elasticity so that it bounces back faster after being stretched out by sun exposure.
One study published in the National Library of Medicine found that drinking aloe vera juice can reduce sunburns by up to 30%. Another study found that drinking aloe vera juice can help treat acne by reducing redness and swelling associated with acne.
Prevents UV-Induced Pigmentation:
Recent experimental research revealed aloe vera juice provides a protective barrier to skin against radiation damage. Drinking aloe vera juice generates an antioxidant protein and also reduces UV-induced cytokine production.
Finally, aloe vera contains two hormones (auxins and gibberellins), both of which help your skin heal faster after injury or skin damage. These hormones have anti-inflammatory properties beneficial for moisturizing dry skin and repairing damaged tissue. Applying aloe vera is also a great way to improve your skin and ease psoriasis and eczema.
How Much Aloe Vera Juice to Drink?
A recent study found drinking 250 ml of aloe vera gel extract daily is beneficial for health without any side effects. Hence drinking juice from 250 ml of aloe vera gel is safe and beneficial for the skin.
How to Drink Aloe Vera Juice for Healthy Skin?
Taking Aloe juice is also one of the best ways to treat burns and wounds, so it's worth trying out if you've been burned or cut. You can drink aloe vera juice in many different ways to improve your skin.
Here's how you can enjoy this delicious plant-based drink:
To drink it, simply add two tablespoons of aloe vera juice to an 8-ounce glass of water.
Drink aloe vera juice mixed with water and lemon on a daily basis after your shower – this will help keep your skin moisturized and glowing!
Mix 1 part aloe vera juice with 2 parts water into a smoothie or shake – this mixture makes an amazing face mask that firms up skin while also improving blood circulation (and helping you look younger!)
Mix 1 part aloe vera juice with 2 parts coconut milk into a smoothie or shake – this mixture makes an amazing face mask that firms up.
Side Effects of Drinking Aloe Vera Juice
Aloe vera has been known to cause stomach irritation and inflammation, as well as diarrhea and nausea.
Aloe vera also contains an enzyme that is potentially carcinogenic, so you should avoid drinking it if you have cancer or are undergoing radiation treatment.
Additionally, there have been reports of people developing botulism after drinking aloe vera juice. This can happen due to the fact that the plant itself may contain toxins that could be harmful to your body if not naturally filtered out during processing.
Aloe vera may contain pesticides or chemical compounds that could be harmful if ingested or come into contact with skin as it is applied topically to treat wounds or burns; these chemicals may also cause allergic reactions (pneumonitis) in individuals who are sensitive to them. It is especially among those with asthma or other respiratory conditions — according to the U.S. Food and Drug Administration website resources page about aloe vera products.
Wrapping Up
Drinking aloe vera juice is a great way to get your skin healthy and glowing. It has been shown to have skin-hydrating and anti-inflammatory properties, which can help relieve a number of issues, including acne scars and eczema.
Aloe vera is also loaded with antioxidants, vitamins A and C, calcium, iron, and potassium. These nutrients help your body renew itself from the inside out-which means that drinking aloe vera juice can help you look younger in more ways than one!
Frequently Asked Questions
Can we drink aloe vera juice every day?
Drinking 250 to 300 ml of aloe vera juice every day is safe if you are not allergic to it. Drinking too much a day can cause side effects, such as it might raise potassium levels in your body or cause abdominal cramps.
Is drinking aloe vera juice good for eczema?
Drinking aloe vera juice is a great way to manage your eczema symptoms. However, if you're using the juice from a plant that's been grown in a factory and then processed with chemicals, you may be doing more harm than good.
Aloe vera juice is packed with vitamins, antioxidants, and enzymes that have been shown to help reduce inflammation and improve the appearance of your skin. It also contains amino acids that are useful for stimulating collagen production in the skin.
Try drinking 1-2 cups of this drink made from 250 to 300 ml aloe gel every day if you want to get rid of your eczema symptoms quickly! It won't take long before they start improving—you may even notice some new skin texture appearing on your skin.
Can drinking aloe vera juice help acne?
Aloe vera contains many healing properties, including those that can help with acne. For example, aloe vera has antioxidants that help reduce inflammation in the skin, which can help reduce redness and swelling caused by acne.
It also contains enzymes known as glycosaminoglycans (GAGs), which have anti-inflammatory effects and can help reduce swelling caused by acne. Aloe vera also contains antibacterial compounds called polysaccharides that kill harmful bacteria on the skin. The polysaccharides are made up of sugar molecules that stick to the surface of bacteria and kill them off—this is why you should always wash your hands after handling aloe vera leaves or using them on your face!