How To Use A Yoga Wheel For Back Pain?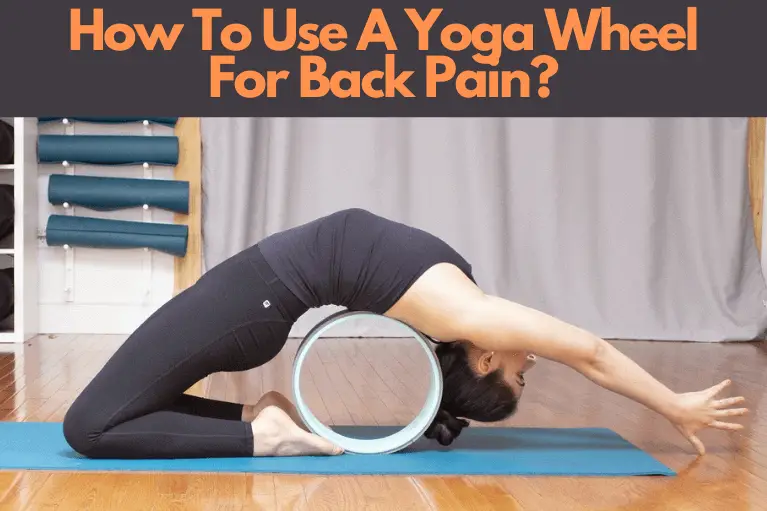 The yoga wheel is a useful prop that has recently become popular among health professionals. This handy little circular wheel provides you with yoga-like poses to help improve your flexibility, balance, and range of motion.
In addition to extending the muscles of your legs and lower back, this device helps increase circulation in the body. You don't need one if you already practice regular physical therapy exercises, but if you suffer from back pain or stiffness, simple yoga wheel poses could benefit you! And here, I will teach you how the yoga wheel therapy can benefit you and how to use a yoga wheel for back pain.
What Is A Yoga Wheel?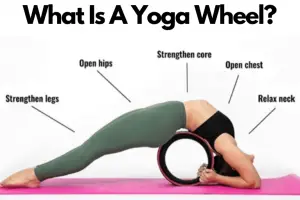 Yoga wheels are a simple, cylindrical hollow tool to help you achieve increased flexibility and also ease back pain. Designed to be used on both the mat and off, they offer one-hand support while performing backbends, stretching poses, and much more!
This straightforward cylindrical tool is fantastic because it can help practically anyone, regardless of how long you've practiced yoga or how recently you started. You can use the yoga wheel as an introductory massage or passive stretching tool. It is frequently used as workout gear off the mat as well.
A yoga wheel uses leverage to give you greater reach in your poses, creating more comfort and stability in your body. So do you have chronic lower back pain? Or do you want to improve your flexibility and build strength? A yoga wheel can help and there's one for everyone! Yoga wheels are available in various sizes for diverse body types and functions.
Small yoga wheels are especially useful for newcomers who don't want to bend their backs as much or who want a lighter treatment. Larger wheels can be an excellent option for taller yogis or experienced yogis who really enjoy deep heart-opening backbends. Depending on the size, specific yoga wheel workouts can accelerate your progress toward your physical and yoga goals.
How Does Yoga Wheel Relieve Back Pain?
Yoga wheels work by using pressure points in your spine and upper body, which help to stimulate the flow of blood and lymphatic fluid. This helps to improve your circulation, which in turn improves your flexibility and ease back pain.
The yoga wheel's 13-inch length is ideal for a deep, supportive stretch underneath your back. The 5-inch diameter is just the correct size to comfortably fit between both shoulder blades while providing a deep tissue massage for the muscles that stretch the total length of the spine. That's how a yoga wheel helps get relief from back pain.
Is Yoga Wheel Effective For Back Pain?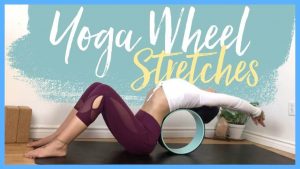 The back relief these wheel yoga tools provide is on an all-new level. You can also tell this by reading the yoga wheel for back pain reviews from Amazon.
Nowadays, almost everyone experiences back pain due to our inactive lives and prolonged use of electronic devices. The primary reason why most individuals start practicing yoga is back pain.
Your spine can withstand a significant amount of strain and trauma, which can cause various problems like back pain, hypertension, and even severe medical conditions like damaged muscles. So the Yoga Wheel is worth a try if you're looking for treatment for these problems without visiting a doctor!
A yoga wheel functions similarly to a perpetually free self-administered spine massage. Your spine receives a little massage by just sliding the wheels along it, which helps to relieve stress and promote spinal decompression.
Place the wheel at the bottom of your spine while gently lying down. The yoga wheel should go down to your tailbone before reversing up to the base of your neck as you balance yourself on it with your knees. You can modify it as needed, relying on your adaptability and the length of the wheels. You'll realize how essential it is to have a sturdy yet padded yoga wheel that is gentle on your vertebrae.
Before starting a yoga practice, use this rotational motion to loosen up your back joints and boost blood circulation. Use the same roller technique on your hips and legs for a similar result. Keep reading to learn step-by-step regarding how to use a yoga wheel for back pain.
How Should I Use A Yoga Wheel?
Here's how to use a yoga wheel to help ease your back pain:
Lie on the floor with your knees bent, and stack a yoga wheel on top of each thigh (or put one leg on either side). Make sure you're in a comfortable position that allows you to breathe easily and comfortably.
Place your hands on top of the wheel and slowly roll it up and down your spine, making sure to roll in a full circle every time. You can also place one hand at each end of the wheel and slowly rotate it from side to side along the spine (this is the same technique used by physical therapists).
Repeat this process for 30-45 minutes at least once per day if needed-and preferably twice per day if possible!
Wrapping Up
Yoga has long been recognized for its potential to increase flexibility through movement and stretching. If you've ever taken in a yoga session, you most likely entered the room feeling stiff, constrained, loose, and stretched out. It has advantages for the body, the mind, and everything in between. The yoga wheel is now well-known for helping people with back problems and for its perks for yogis.
Users of the yoga wheel appear to be purchasing it more frequently for its pain-relieving properties, occasionally even more regularly than yogis are buying it for practicing yoga. In either case, this double blade wheel comes with incredible advantages for its users. I hope you found this article on how to use a yoga wheel for back pain useful and if so, don't forget to give your feedback.
FAQs
Is it a good idea to use yoga wheel for back pain?
Yoga wheel's innovative design allows for its implementation in countless yoga positions and yoga wheel programs. It can be used in cardio backbend postures to provide a relaxing stretch without going too far. A yoga wheel is a stability program similar to a yoga block when positioned underneath your legs or quadriceps. Yoga wheels can also be used as an ab roller replacement for just wheeling around to alleviate stress. Yoga wheels can also be utilized for more energetic motions to develop the abdominal muscles and strengthen balance. Furthermore, you may shift back and forth by positioning the wheel under your feet for an incredible abs exercise.
How much does a yoga wheel cost?
If you search yoga wheels on Amazon, you will see that a basic yoga wheel costs around $20 – $36.
Which size of yoga wheel helps back pain?
You should choose a yoga wheel's size depending on your height. Currently, yoga wheel comes at three different sizes:
The Basic: Ideal for 4 – 5 feet tall.
The Mini: Ideal for 5 feet tall.
The Plus: Ideal for 6 feet tall.
If you are indecisive about what size to choose, you can go for 3 pack yoga wheel. It comes with all the three sizes and costs around $50.
Resources:
Related Reading: