How To Clean A Lululemon Yoga Mat?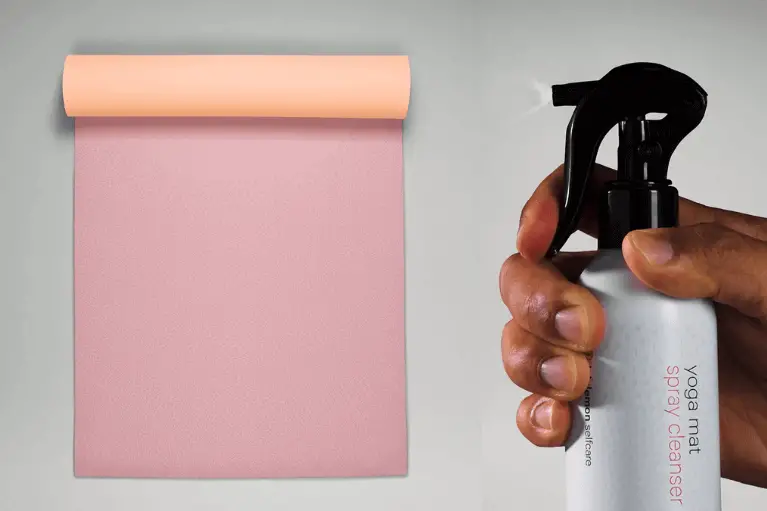 Lululemon is one of the best athletic apparel brands, and one of their best-selling products is the Lululemon yoga mat. Lululemon has made their yoga mats more convenient and easier to clean, but let's face it, they're still hard to clean. If you've had the chance to use this particular yoga mat, let me teach you how to clean a Lululemon yoga mat properly so that your one never will smell like something unpleasant again.
All yoga mats from Lululemon are made with natural or synthetic rubber, Polyurethane, and Polyester. Some of them are also made with Cotton and Thermoplastic elastomer along with rubber. According to Lululemon's official cleaning instructions, you should only wipe the mat clean with a damp cloth and air dry. However, you can clean the Lululemon yoga mat in many different ways, depending on how much time and space you have to do it.
Keep reading to learn some other effective ways to clean a Lululemon yoga mat.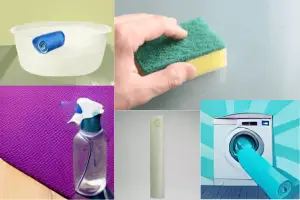 1. The Spray Cleaning Technique
Spray cleaning is the simplest way to keep the mat clean and odorless. This cleaning technique is also the easiest way to remove germs and sweat from the yoga mat. These days you can find different types of yoga mat cleaners, but that's optional. You can also make an effective yoga mat spray cleaner at home by following these steps:
Add 1-2 tablespoons of white vinegar and 2 cups of water in a spray bottle.
Shake the mixture well.
Spray the mixture liberally all over the yoga mat.
Wipe the mat dry with a washcloth and air-dry.
Notes: White vinegar comes with antimicrobial properties and helps prevent molds on the yoga mat. However, the Lulumelon 5mm yoga mat already comes with an antimicrobial additive. But not all mats, particularly the Take Form Yoga Mat, don't come with any antimicrobial additive. In this case, you can follow the above technique or the sponge cleaning technique.
2. The Sponge Cleaning Technique
One of the biggest complaints from people who bought a Lululemon yoga mat is that some of the mats stain with sweat. Spray cleaning and simply wiping it with a damp cloth might not remove the stain easily. In cases like this, the yoga mat needs a deep sponge clean. Here's how:
Start by removing any dirt or debris from the mat with a wet cloth or sponge.
Give your mat a quick scrub with a sponge soaked with soap and water (just don't use any harsh chemicals). Using harsh chemical cleansers can ruin the protective coating on the bottom of the mat. So use a gentle cleanser or mild dish soap and water when sponge-cleaning your yoga mat.
Be sure to wipe the excess water from the Lululemon mat.
Re-treat with fresh water by using a wet paper towel and let it air dry.
3. Soak, Submerge, And Air Dry
If you want to clean your mat after heavy sweating or if you've been practicing in the rain, fill up a tub or bucket with lukewarm water and add some baking soda or white vinegar until it reaches pH 7-8. This should create enough Sud-sing power on its own!
Rinse it thoroughly with water; let dry completely before storing it away in your bag/backpack/box of supplies at home/gym.
Additional Care Tips for Lululemon Yoga Mat
It can be hard to avoid getting rid of sweat from your mat before class starts. But don't worry-cleaning and keeping the Lululemon yoga mat tip-top is easy! We've got a few tips for keeping the Lululemon yoga mat clean and free from damage when cleaning:
It's best to wash your yoga mat by hand because this will help prevent damage to the material itself. Fill up a sink or a tub with warm water and add some mild soap. Then scrub gently with your hands until all dirt and sweat are gone off of the surface of the yoga mat. You can also use a towel under some warm water.
After washing the Lululemon yoga mat, let it dry completely before storing it in its case or storing it somewhere else until the next time when you want to use it again!
Always store it out of sunlight to increase the longevity of the yoga mat.
Wrapping Up
Now that you know how to clean a Lululemon yoga mat, there is one important thing to consider. There are four types of yoga mats from Lululemon, and each of the mats is made with different types of material. It is best to follow the care and cleaning instructions of the mat. And the good news is you can see the materials used in the mats and care instructions right from their website.
FAQs on Cleaning A Lululemon Yoga Mat
Why is it important to clean a Lululemon yoga mat regularly?
I get asked this question quite a lot. You must clean your mat after every use because the sweat from your body will soak into it, leading to an unpleasant smell. In fact, even if you don't wash up after every yoga practice, your mat will still smell after about 4-5 hours due to bacteria growing on it. I've written this article in order to show you how to clean a Lululemon mat and other types as well! So do give it a read.
Does the Lululemon yoga mat smell?
The first few days of using a new yoga mat will probably smell a bit funky. But after you've cleaned it regularly and air-dried it before storing it, the smell should go away.
To clean your mat and keep it odorless:
Mix up a few drops of lavender oil, one spoonful of vinegar, and 2 cups of water.
Spray the mixture on the mat, wipe it down with a wipe cloth and let it air dry completely.
Follow this cleaning technique for 2 to 3 weeks, and the smell will disappear!
What causes the Lululemon yoga mat to smell?
We know a new yoga mat might smell for the first week or two. But it's not the mat's fault! The smell is actually caused by a mixture of chemicals in the rubber on the mat and the rubber on your hands. The key to getting rid of it is to clean your mat regularly, and air dry it before storing it.
Can I put a Lululemon yoga mat in the washing machine?
You can wash your Lululemon yoga mat in your washing machine, but you should be aware that the heat from the machine could damage the mat's surface texture. Most importantly, Lululemon yoga mat cleaning instruction doesn't recommend putting it in a washing machine. However, if you want to use it in the washing machine, we recommend putting it on a low heat setting and running a cold water rinse cycle first.
You may also want to add a fabric softener sheet or two to help reduce static cling and keep your clothes from sticking to the mat.
Remember that if you are using a hot or warm water cycle, it is important to ensure that the water temperature does not exceed 140 degrees Fahrenheit (60 degrees Celsius). This will damage the coating of your Lululemon yoga mat.
Resources:
Related Reading: