Nutrisystem Reviews: Does it Really Work for Weight Loss?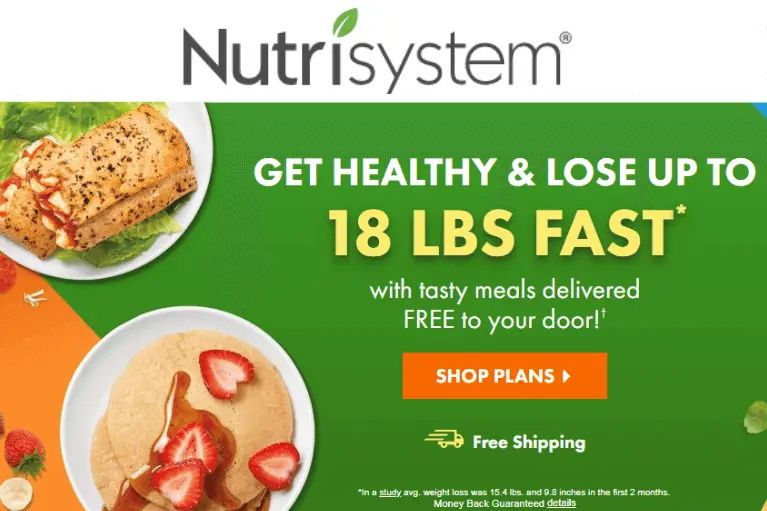 The Nutrisystem aims to simplify your weight loss. For many people, weight loss is like a dream that seems to be challenging to achieve. Nutrisystem is one of the most popular programs, and they follow not only innovative but effective methods for weight loss.
The Nutrisystem program is not customizable but a portion-controlled diet plan, rich in nutrients, adequate caloric intake, and delicious meals that will prevent overeating and satisfy your overeating habit. Besides, it will eradicate your fundamental cause of obesity.
Nutrisystem is a pre-packaged healthy and nutritious food delivery program. Furthermore, they deliver your meal straight to your doorstep. It saves your effort and time by doing the customization, cooking, and planning on the basis of your personal and nutritional needs. Nutrisystem is best for everyone, whether young or old, nursing mothers or diabetic patients.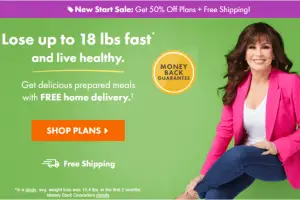 You can have a complete and ideal diet plan, whether you are a pure vegetarian or likes to eat meat. Nutrisystem focuses on the essential dietary components of your body. Furthermore, it leaves out the unessential nutritional features used to enhance food taste and is unhealthy. In this Nutrisystem review, we discuss everything about Nutrisystem you have to know before purchase.
=>(50% Off & Free Shipping) Choose Your Plan From Official Site Of Nutrisystem
How Does Nutrisystem Work?
Nutrisystem provides you different programs according to your requirements, weight, and considering many other factors. There are separate programs for women and men and people with diabetes type 2, and people who are vegetarian. These three meals per day in each plan, besides two snacks for men and one snack for women per day.
Here are its three plan levels:
Basic

Uniquely Yours

Uniquely yours ultimate
Each plan level offers you a slight difference in cuisine choices. Furthermore, you can address your concerns, questions, and requests online through a Smartphone app. Weight-loss counselors address your queries by phone.
In each plan, you can select your meal by Chef's choice, or you can also choose your meal. You can personalize your meal choices according to your food preferences, body type, and goals. To avail of this option, you have to take a short quiz.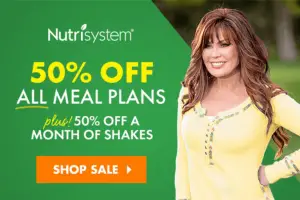 Nutrisystem provides the food on the plan you eat. In the "Basic" plan, mostly there are no freeze foods, and in "uniquely Yours" and "Uniquely your ultimate" projects include the higher quality meal in both unfrozen and frozen selection. In terms of meal and snack choices, a wide variety of options are included in your more expensive plans.
Choose Your Plan
Nutrisystem Official Site - 50% Off Sale on All Plans
Lose Weight, Improve Your Health, and Have More Energy. Get Delicious, Fully Prepared Meals, Plus FREE Home Delivery!
Nutrisystem Menu: What Foods to Eat
There are some delicious foods you'll discover with the Nutrisystem meal plans. Here are choices for every meal of your day:
Some surprising things on the menu are a blueberry muffin, granola cereal, cinnamon raisin bake bar, honey wheat bagel, and biscotti bites, among other alternatives.
Dishes for lunch include trail fudge graham bar, mix bar, white chicken noodle soup, cheddar mac, cheese, tuna salad, and a plethora of other choices.
You also have a lot of diversity to pick from here including, hearty beef stew chicken lasagna with meat sauce, BBQ beans, hickory smoke, flavored beef patty, and chili with beans.
For times when you want to surrender to some weight loss friendly snack, you've some great options such as a snickerdoodle cookie, milk chocolate coconut almond bar, sweet and slack snack mix, cheese puffs, Nutrisystem shakes, flavored pretzels, and a lot more.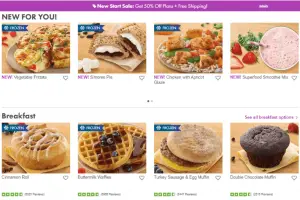 =>(50% Off & Free Shipping) Choose Your Plan From Official Site Of Nutrisystem
Your four weeks Nutrisystem plan
Nutrisystem is a four-week program. However, you can undoubtedly repeat your plan as many times as you want. In the Nutrisystem program, you will get three meals per day and some snacks besides. Some of them include frozen shakes and meals per day. You can easily access the Numi app provided by Nutrisystem for guidance and meal planning.
The program's first week is a little bit different from your whole plan. You will be provided with one snack, three meals, and one special Nutrisystem formulated shake per day. It plays a part in your weight loss success.
During the remaining three weeks, the snacks and meals that are not provided by Nutrisystem, the company will recommend you to choose low sodium, lean, low sodium, and low-calorie options. The ingredients you purchase will be used in your meal. To know about the foods compliant in your diet, customers are provided with grocery guides.
What to expect from 4-week Nutrisystem Basic Plan
You can expect the following things in a one month Nutrisystem plan.
The first week is a starting week to give a kick start to your weight loss. It helps you to reboot your body with their unique shakes, packs, and meals for each day.
The main focus in this period is to maintain your weight that has been lost in the past week. In this time, you will get snacks and ready to go meals and your body will need additional calories, that is the reason you will get more snacks.
Free NuMi weight loss app
You will get unlimited access to expert tips, exclusive discounts, engaging weight loss challenges, recipes, and many more things. You can keep track of your weight loss, food, and activity progress more accurately. Download NuMi App.
Excellent customer service and Unlimited support
During the working days, you have the opportunity to be in touch with weight loss counselors and your dietitians. Furthermore, their top quality customer service is their best point that makes them unique from their competitors.
For every order in the US, the shipping is free.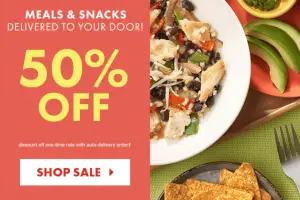 Why should you try Nutrisystem?
The only overweight person doesn't have to try it. It is good and works virtually for every person who wants to maintain their weight, wants to control blood sugar, doesn't want to prepare their food, and enjoy a meal plan, especially for those who want to eat in moderation.
Calories in the Nutrisystem meal plan fit in any weight loss plan that certainly helps you to have faster results.
Nutrisystem's main focus is on smart and controlled eating, unlike starvation diet plans.
Undoubtedly salt has its unique role in weight gain and weight loss. There is a standard amount of salt in Nutrisystem meals. By reducing salt intake, the risk of heart diseases, hypertension, and many other risks decreases. Furthermore, the risk of weight loss is averse.
>>>Visit Now Official Website Of Nutrisystem<<<
Nutrisystem Pros and Cons
Pros:
Here are some most of the standard and unique benefits of Nutrisystem meal programs.
Supplementary foods, flex meals, and snacks help to make the menu more diverse. You can even personalize the version of your diet by choosing PowerFuels, Smart Carbs, Free Foods, and Extras that you enjoy. Easy to understand grocery lists make shopping more comfortable.
This plan is easy to follow because nourishments are pre-administered to keep calories low enough for weight reduction. Since nourishments are delivered right to your doorstep, a calorie-adjusted dinner is consistently accessible. There is, to a lesser degree, a worry about creating troublesome choices at supper time.
1,200 to 1,500 calories per day are provided with your plan, and foods contain fiber, carbohydrate, and fat, essential nutrients such as protein. Customers are powerfully encouraged to eat one to two servings of fruit and at least four veggies each day. Those who find this difficult are offered hold up.
Lastly, exercise is especially encouraged, and assistance is provided to help you at the start and maintain your program. And if you've already attained your goal weight, a weight-maintenance plan is presented. These plans include a combination of meals and snacks or a weekend meal plan.
Cons:
Is Nutrisystem Affordable?
In case of any budget, Nutrisystem is not only practical but affordable. Besides, Nutrisystem gives you a special discount offer on meal plans on Nutrisystem official website. Now and then, Nutrisystem brings new discount offers, packages, and vouchers.
Don't forget to visit their website to get the latest offer available and subscribe to the newsletter to be in touch: Nutrisystem.com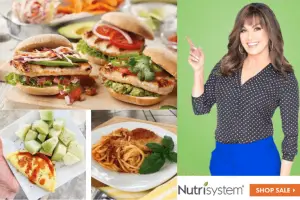 Nutrisystem Real Customer Reviews
Hi, my name is Isabella, and I am 45 years old. The food taste is not only pleasing but also helps you in replacing your unhealthy food with other great and healthy alternatives. I lost 25 pounds in 3 months. Nutrisystem program works for me, and I can feel vital positive energy inside my body. It helps me a lot.

Isabella, 45

During the last few years, I gained a lot of weight that changed my physique and affected my health. I became prediabetic and eventually started to lose my confidence. I avoided all my social gatherings and decided to try the Nutrisystem Program. In creating, I have to face problems to switch my diet, but their delicious meal helps me out. It works for me.

John, 28

Hello! My name is Mia. I am a foodie person and enjoy fast food. There was a time when fast food and carbonated drinks became a part of my life, and I really can't get rid of them independently. I suffer from diabetes, stomach problems, and obesity due to my unhealthy eating habits. To me, Nutrisystem is a turning point in my life, and I will recommend it to others.

Mia, 36
>>Check More Reviews On Official Website! Visit Now & Check Your Amazing Offers!!
Nutrisystem Reviews – Final Words
We are at the end of our Nutrisystem Review and I have discussed all pros and cons of Nutrisystem and I hope now you can easily decide whether its worth buying or not.
Nutrisystem is an expert planned, helpful, useful, and customized meal plan of 4 weeks. Besides, it's more convenient part is their free home delivery. Food quality is indeed mind-blowing and delicious as well. There is also a snack option available.
The meal plan comes with expert advice and several bonuses that make it unique. Nutrisystem plans are currently up with special discount prices but for a limited time as well.
So what are you waiting for? Without wasting your time, place your order now.
Nutrisystem FAQ's
What if I need a unique dietary plan?
Nutrisystem offers you a unique dietary plan according to the requirements of your body. You can find the best and effective nutritional plan if you are vegetarian or have some sort of special dietary restrictions, which means if you have some food allergy.
What is the per month cost of Nutrisystem?
The cost of Nutrisystem is about $300-$350 per month. Besides, it starts at $8.57 per day in their basic plan. Furthermore, Nutrisystem is a 1-month program with customized and pre-selected food. In $10.36, you can get unlimited support and more food choices in the Core program.
In the Nutrisystem program, can I have a diet coke?
Very low or calorie-free beverages like tea, coffee, and diet sodas are allowed in the weight loss program of Nutrisystem. If you want to add creamer or sweetener in your tea, they always recommend having low-calorie creamers or calorie-free sweeteners.
=>(50% Off & Free Shipping) Choose Your Plan From Official Site Of Nutrisystem
Resources:
https://www.webmd.com/diet/a-z/nutrisystem-diet
https://www.healthline.com/nutrition/nutrisystem-review
https://en.wikipedia.org/wiki/Nutrisystem